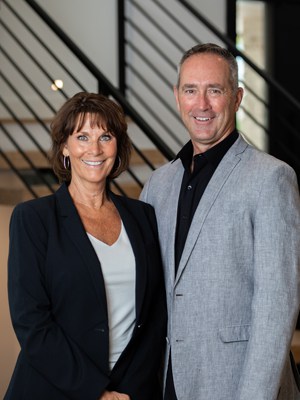 Broker Associates
|
Realtor/Agents
Originally from the Northeast, Jim & Suzy found the beauty of Colorado early on. Their family and careers are all rooted in Colorado which has provided them extensive knowledge of neighborhoods that have stood the test of time and neighborhoods that still present [...]
Originally from the Northeast, Jim & Suzy found the beauty of Colorado early on. Their family and careers are all rooted in Colorado which has provided them extensive knowledge of neighborhoods that have stood the test of time and neighborhoods that still present opportunities.
With Jim's previous experience in Colorado's commercial construction, contract knowledge and love of technology combined with Suzy's marketing experience, negotiating skills and love of real estate, they are the perfect advocate for buyers and sellers alike.
Working out of the Perry & Co. Landmark office, Jim & Suzy have always lived in and are especially familiar with Denver and its southern suburbs. Whether you're looking to buy or sell in the modern, master planned suburban neighborhoods or the classic, traditional urban neighborhoods of Denver, their value to your transaction will be evident immediately.
Jim and Suzy love to travel, golf, exercise at Wash Park and spend time with family. Let them take the reins (and the stress) and navigate your next real estate transaction.
Office Location
5375 Landmark Place #104
Greenwood Village, CO 80111
Specifications
Languages:
Specialties: Boomer Specialist (ages 55 & up), Buyers Agent, Gen X Specialist (ages 40-55), REALTOR/Agent, Relocation Specialist, Sellers Agent
Service Area: Aurora CO, Denver CO, Greenwood Village CO, Highlands Ranch CO, Parker CO
Suzy & Jim's Testimonials
"Jim is the TOP in realtors - from the home search, to closing, he's exactly as hands-on as we needed him to be, but when there's a lull in the action he doesn't pester. He's full of good information and has an easy going personality that is very soothing when the stress level climbs. Jim worked feverishly during the last two weeks prior to closing when the builder & lender were delaying and confusing the process, and relieved us of a lot of stress. His herculean [...]
Robyn Kramer, submitted 6/14/19
"Jim Doerr was OUTSTANDING!!! By far the absolute best realtor we've ever worked with. Jim comes with our highest recommendation."
Greg Newman, submitted 6/14/19
In late 2019, our family learned we'd need to relocate from Colorado. At the time, we were unsure of who might assist us with our sale but now count ourselves extremely lucky to have found Jim and Suzy! Throughout the entire transaction, both were professional to a fault, highly responsive, down to earth, caring, and sensitive to our needs as stressed sellers. Jim and Suzy even went the extra mile to care for our home after we had left it and prior to our final sale. We're [...]
Brian Munford, submitted 12/24/19
"Jim was great. Super patient and knowledgeable about the area. He helped me find just the right home for me. I would highly recommend him."
April Yi Garcia, submitted 9/26/17
"Jim is a terrific broker. Very knowledgeable, honest & straightforward. It was a pleasure working with him."
Peter Babin, submitted 2/2/19
"Jim Doerr did a marvelous job from start to finish. Attentive, polite, timely and thorough."
David Wagner, submitted 12/21/17
"If you're looking to buy a home and you want the best option possible... Jim and Susan Doerr are the people to work with! They are dedicated, informative, friendly and extremely reliable. If you have specific requirements for a home, like we did, Jim and Susan will really listen! They will immediately find you properties that check all of the boxes! The process of buying a home was minimally stressful with their help!"
Olivia Miller, submitted 12/19/19
Jim and Suzy Doerr were perfect! They were always available whenever we wanted to tour a property or had a question. When we found the home we wanted to buy, Jim and Suzy worked hard on our behalf to make sure our offer was accepted. We were able to get the home under list price despite the fact that there were other offers. Jim and Suzy were very attentive and instructive as they guided us through the purchasing process. We we're also simultaneously selling a home through a different [...]
Dave O'Brien, submitted 12/24/19
"Jim and Suzy Doerr were amazing! My family and I were relocating from overseas, and had limited time to find a great home for our children that also had great public schools. Jim and Suzy were very professional and knew the ins and outs of buying a house in Colorado. They were also extremely personable and fun, which is important when you bring the whole family along for house hunting. I would recommend them to my closest friends and family without any hesitation."
Thomas Carll, submitted 01/08/2020
We moved to Denver from Canada. We had a limited amount of time to find a house. Jim & Suzy Doerr helped us get acquainted with different communities nearby so that we could make the right decision for us. Jim was with us at every meeting with the Builder seller, assisted in the negotiations & even showed up at the home inspection. He had our back every step of the way.
Tyra & John Hedges, submitted 12/19/19
Contact
Hi there! How can we help you?
Contact us using the form below or give us a call.
Hi there! How can we help you?
Contact us using the form below or give us a call.